Annual schedule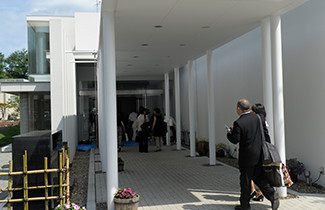 Monthly Service
Service is regularly conducted every month. People across all age groups have been participating in this service. You can hear the temple master's heartwarming sermon. You also have a chance to ask the master for advice about your concerns in your daily life; problems which you cannot solve by yourself; and problems about your family members and friends which you cannot ask others about. (A maximum of 5 people can ask per day).
* Reservation is required to attend Monthly Service.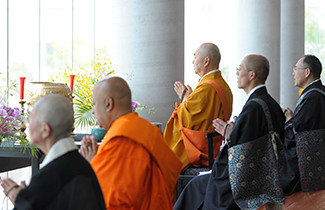 Dai-Anjin Kigan

(To live with big ease, peace and happiness throughout your life with the help of Buddha)
Dai-Anjin Kigan is conducted several times per year. People can pray through Dai-Anjin Kigan to live with ease, peace, and happiness throughout their life with the help of Buddha in this uncertain world.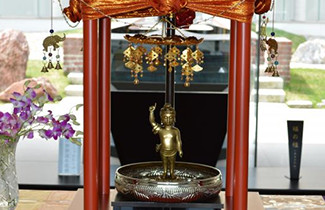 Hanamatsuri
(Flower festival)
Hanamatsuri (Flower festival) is held in May to celebrate the birth of Buddha.You can experience Hanamido's worship and copy Buddhist scriptures on that day. Also, on that day, there are other events activities such as flea market.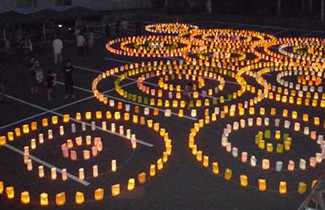 Urabon'e
(O-Bon observance)

, Bon Dance Festival

August

Urabon is called O-bon in Japan, and observance is conducted to pray for the return of ancestors' souls. We have the names "O-Bon and New years' day" in Japan. O-Bon is as important as New year's day. Butsugan-ji has Bon Dance Festival for praying the repose of souls in early August. You can enjoy Bon dance, dancing for Buddha, food stalls, flea market, bingo games, etc.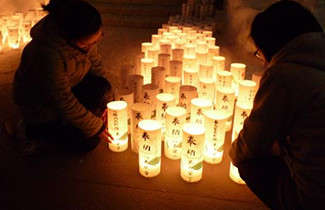 Joya'e Service, Candle lighting & Prayer for happiness/good luck, Candle lighting for Memorial

New Year's Eve
We express our deepest gratitude in order to live with ease, peace, and happiness through the help of Buddha for this year; as well to pray for the coming year by lighting a candle.
Candle lighting is 500Yen each.
Candles are light in the early evening of December 31.
Prayer service for happiness/good luck

monthly
This is the prayer service for happiness/good luck for new year.
You can pray for this year's happiness and good luck through Buddhist scripture's copy.